About us
Thai Thai Restaurant is conveniently situated at Shop 1, 266 Tower Road, Casuarina NT. We serve authentic Thai cuisine to diners as well as to those who love eating at home. To place an order, simply go to our online ordering system and choose your orders from our menu. Our menu is filled with a wide variety of Thai food choices such as Spring Rolls, Curry Puffs, Money Bags, Fish Cakes, Satay Chicken Skewers and more. You can also try our Chef's Specialties including Choo Chee Curry, Steamed Chicken, Crying Tiger, Hoy Tod, Moo Krob, Kung Kung Vegetables and many more.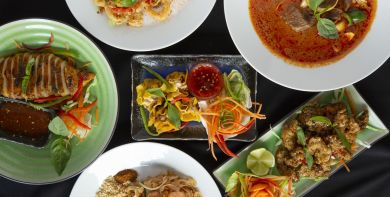 Reviews
Jaimie-lee
"I only put great for food as the curry puffs are not in anyway worth $8 because of how small they were was a little disappointed other then that the food was lovely."
14/02/2020
Joel
"Very tasty, they seemed to have completely ignored the requested delivery time though, it came about 15 minutes early. Maybe it was an issue with the online ordering system..."
14/02/2020